World War I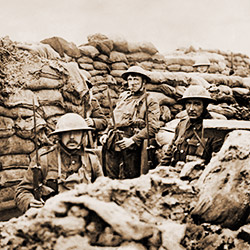 The First World War, the "Great War", was the scene of devastating battles carried out under execrable and inhuman conditions by soldiers subjected to a firepower then never seen. After it, the world and Europe were profoundly transformed. Relive or discover these tragic moments where millions of people lost their lives.
The 14-18 war was the first so-called "modern" war and one of the most tragic in history.
Photo credit:
Shutterstock
Game creation: 2020-07-12
Hit Percentage
(good answers)
Questions Preview
Here are some questions from the quiz World War I. Click on the "Play" button to see the answers and more...
What call did Pétain make after seeing his troops resist a new German offensive at Verdun in 1916?

"War, as well as war"

|

"No truce, no rest"

|

"Defence first"

|

"Courage! We'll get them!"

Which nation developed the first tank that was first used in combat in 1916?

England

|

The United States

|

La France

|

Germany

This aerial bombardment from Zeppelin airships in January 1915 was the first to target civilian targets.

The Hague (Netherlands)

|

Cork (Belgium)

|

Yarmouth (England)

|

Reims (France)

The "mother of all battles" was the longest of the whole war and one of the bloodiest, for no military result.

The Battle of the Somme

|

The Broussilov Offensive

|

The Battle of Verdun

|

The first battle of the Marne

How many belligerent countries were there during the conflict, including territories belonging to the colonial empires?

42

|

32

|

72

|

52
Real-time difficulty levels
This graph shows the overall difficulty level (all players) of the questions for the quiz World War I. A question's level of difficulty fluctuates over time as it is a function of its overall hit percentage.
Comparative Statistics
You are not log in.
You must be logged in to view your statistics for the game
World War I
.
Évaluation et commentaire
Player Rating
You are not log in.
You must be logged in to rate the game
World War I
or to leave a comment.
Player comments
No comments yet
Quiz Me Games also offers you: