Great Names in Science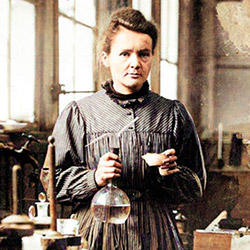 Over the centuries, many scientists have improved our perception of the world. Here they are.
Find the men and women who have contributed to the advancement of science.
Game creation: 2020-04-11
Hit Percentage
(good answers)
Questions Preview
Here are some questions from the quiz Great Names in Science. Click on the "Play" button to see the answers and more...
In 1859, he published a groundbreaking work explaining the evolution of living species through natural selection.

Georges Cuvier

|

Gregor Mendel

|

Charles Darwin

|

Jean-Baptiste de Lamarck

This American seismologist developed in 1935 a method of calculation to quantify the magnitude of an earthquake.

Charles Richter

|

Joseph Mercalli

|

Francis Beaufort

|

Alfred Wegener

"On the Fabric of the Human Body", a 700-page book published in 1543, made him the founder of modern anatomy.

Andreas Vesalius

|

Ambrose Paré

|

Antoine de Lavoisier

|

Claude Galien

He led the Manhattan Project to build the American atomic bomb during World War II.

Hans Bethe

|

Albert Einstein

|

Robert Oppenheimer

|

Enrico Fermi

One of the greatest minds and thinkers of history, he assimilated all the knowledge of his time in all fields.

Archimedes

|

Aristotle

|

Hipparchus

|

Empedocle
Real-time difficulty levels
This graph shows the overall difficulty level (all players) of the questions for the quiz Great Names in Science. A question's level of difficulty fluctuates over time as it is a function of its overall hit percentage.
Top 10 - Rating *
* Minimum of 20 questions answered. Rating are updated every hour.
Comparative Statistics
You are not log in.
You must be logged in to view your statistics for the game
Great Names in Science
.
Évaluation et commentaire
Player Rating
You are not log in.
You must be logged in to rate the game
Great Names in Science
or to leave a comment.
Quiz Me Games also offers you:
Same category –
Featured Games, History, Science